Fire Emblem Warriors: Three Hopes - The Loop
Play Sound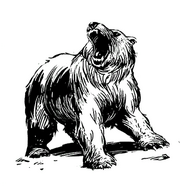 Bears are a race of creatures in Pillars of Eternity and Pillars of Eternity II: Deadfire.
A Ranger can have a bear Animal Companion.
Description
[
]
Pillars of Eternity

[

]
| | |
| --- | --- |
| | The Dyrwood has a healthy bear population, though most avoid the civilized areas and roads used by kith. Nobles sometimes hunt bears for sport, but most colonists, old-timers, and Glanfathans simply avoid them. The forests of the Eastern Reach contain game that puts up far less of a fight than an angry bear. |
Pillars of Eternity II: Deadfire

[

]
Bears are widely distributed across the Deadfire Archipelago. They favor dens dug into hillsides where their preferred foods - murkberries, yalōa nuts, and ants - are plentiful. Slightly smaller than their Eastern Reach cousins, Deadfire bears are nonetheless vicious opponents when goaded to violence.

In the early years of Deadfire colonization, colonists were occasionally killed in bear attacks. The Tikawara bear incident is particularly infamous. Seven colonists died in the first attack, then three more the following night when the bear returned during a funeral vigil.

On occasion, Deadfire bears have been known to fall prey to tigers, adult females and their cubs being especially vulnerable. This is attributed in part to their inability to climb trees, unlike their counterparts across the sea.
Variants
[
]
Pillars of Eternity

[

]
Image
Name
Level
End.
Acc.
Damage
Attributes
Defenses
DR
Abilities
Immunities
Loot
Young Bear
1
47
45
17-25
Mig:
Con:
Dex:
Per:
Int:
Res:

18
16
9
12
5
10

25
22
48
10




0

Animal Companion Combat Bonuses

Bear
5
122
62
25-43
Mig:
Con:
Dex:
Per:
Int:
Res:

21
19
10
14
6
12

39
40
72
28




7

Animal Companion Combat Bonuses

Young Snow Bear
8
156
66
17-25
Mig:
Con:
Dex:
Per:
Int:
Res:

18
16
9
12
5
10

46
43
69
31




0

Animal Companion Combat Bonuses

Elder Bear
9
205
76
33-49
Mig:
Con:
Dex:
Per:
Int:
Res:

23
21
12
16
8
14

53
60
92
48




7

Animal Companion Combat Bonuses

Snow Bear
13
297
84
28-46
Mig:
Con:
Dex:
Per:
Int:
Res:

25
23
14
18
10
16

67
80
112
68




4

Snow Bear Terrifying Roar
Pillars of Eternity II: Deadfire

[

]