Raise a Floppa - The Loop
Play Sound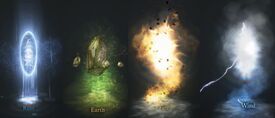 Blights are lost souls or soul fragments that have bonded with elemental substances. They are often victims of natural disasters (floods, rock slides, forest fires, etc.). They are incoherent, confused, and full of rage, an amorphous cloud that swirls endlessly and with great violence. Within the vortex, dozens of humanoid shapes materialize and vanish from moment to moment. Faces scream in silent agony while hands desperately clutch and claw at their surroundings, as though still trying to escape their tragic fates.
Bîaŵacs, storms that can rip the soul out of a person's body, often create blights. If souls are ripped free from their bodies and caught in the center of the storm, they may become stuck together and bonded with any other elemental substances in the maelstrom. They are pure chaos and confusion, and destroying them is considered by many to be a mercy to the souls trapped within them.
Blights have been the subject of controversial research carried out by the animancers of Eora. On the one hand, attempts at vivisection have led to promising strides in treating patients who, for one reason or another, contain within their bodies two or more complete souls fused together, which has been identified as the root cause of a variety of mental and physiological disorders. On the other, however, some groups lament that there is a lack of transparency on the methods being employed in these experiments, the general concerns being that these might be somehow inhumane or present some broader risk to the surrounding populace. There are also some who accuse animancers of deliberately trying to create blights for study, but the veracity of these claims is difficult to substantiate.[1]
Variants
[
]
Image
Name
Level
End.
Acc.
Damage
Attributes
Defenses
DR
Abilities
Immunities
Loot
Small Earth Blight
2
60
27
13-19
13-19 (LH)
Mig:
Con:
Dex:
Per:
Int:
Res:

14
15
13
9
6
9

27
27
41
13




5
3
999
999
3





Small Flame Blight
2
48
30
13-18
13-18 (LH)
Mig:
Con:
Dex:
Per:
Int:
Res:

12
10
16
12
6
9

27
39
27
13




5
999
999
3




Small Rain Blight
2
48
27
13-18
13-18 (LH)
Mig:
Con:
Dex:
Per:
Int:
Res:

12
10
15
9
6
9

27
31
27
13




5
3
999
3
999





Small Wind Blight
2
50
30
12-18
12-18 (LH)
Mig:
Con:
Dex:
Per:
Int:
Res:

11
11
14
12
6
9

27
35
27
13




15
999
3
999




Earth Blight
6
134
40
21-32
21-32 (LH)
Mig:
Con:
Dex:
Per:
Int:
Res:

16
18
12
10
11
9

39
39
63
35




10
5
999
999
5





Flame Blight
6
106
43
19-29
19-29 (LH)
Mig:
Con:
Dex:
Per:
Int:
Res:

12
12
20
13
10
9

39
61
43
33




10
999
999
5




Ice Blight
6
134
40
21-32
21-32 (LH)
Mig:
Con:
Dex:
Per:
Int:
Res:

16
18
12
10
11
9

39
39
63
35




10
999
5
999




Rain Blight
6
106
40
20-30
20-30 (LH)
Mig:
Con:
Dex:
Per:
Int:
Res:

14
12
20
10
10
9

39
55
47
33




10
5
999
5
999





Wind Blight
6
96
44
19-29
19-29 (LH)
Mig:
Con:
Dex:
Per:
Int:
Res:

12
10
18
14
11
9

39
59
39
35




10
999
5
999




Greater Earth Blight
9
238
49
32-50
32-50 (LH)
Mig:
Con:
Dex:
Per:
Int:
Res:

18
26
12
10
11
9

48
48
92
44




12
6
999
999
6





Greater Flame Blight
9
145
52
31-47
31-47 (LH)
Mig:
Con:
Dex:
Per:
Int:
Res:

16
12
25
13
11
12

51
80
60
50




12
999
999
6




Greater Ice Blight
9
238
49
32-50
32-50 (LH)
Mig:
Con:
Dex:
Per:
Int:
Res:

18
26
12
10
11
9

50
50
78
62




9
7
5
12





Ice Spray

Teleport Through Earth

Greater Rain Blight
9
158
49
30-46
30-46 (LH)
Mig:
Con:
Dex:
Per:
Int:
Res:

15
14
25
10
10
9

48
74
62
42




12
6
999
6
999





Greater Wind Blight
9
145
53
29-45
29-45 (LH)
Mig:
Con:
Dex:
Per:
Int:
Res:

14
12
25
14
11
9

48
82
56
44




12
999
6
999




Magma Blight
12
392
78
44-59
Mig:
Con:
Dex:
Per:
Int:
Res:

26
25
15
18
20
20

58
79
115
93




15
999


References