Fire Emblem Warriors: Three Hopes - The Loop
Play Sound
Bounty: The Gleaming Society is a bounty in The White March - Part I.
Synopsis
[
]
A group of radicals calling themselves the Gleaming Society have been targeting and assassinating political figures in both the Dyrwood and Readceras. A bounty has been put on the head of their leader, Ulmar.
Walkthrough
[
]
Speak to Tealdor near Renengild's House in Stalwart Village and accept this bounty task.
Then travel to Longwatch Falls and approach the south-east terrace, between the bridge and the dragon cave. Ulmar (a 13th level Monk) and his fellow members of the Gleaming Society hide out there, and attack as soon as they see you.
Defeat them, and pick up Ulmar's Head after the battle. Ulmar drops the Sandals of the Forgotten Friar.
Bring the head back to Tealdor in Stalwart to collect your reward:

3,000
Gallery
[
]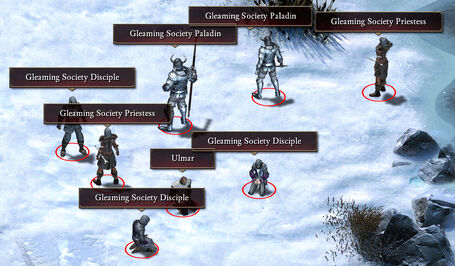 Journal
[
]
quests\px1_bounties\px1_03_tsk_boss_gleaming_society

ID

Objectives
0
Bounty: The Gleaming Society
10000
A group of radicals calling themselves the Gleaming Society have been targeting and assassinating political figures in both the Dyrwood and Readceras. A bounty has been put on the head of their leader, Ulmar.
1
Kill Ulmar and take his head.
10001
There are rumors that the Gleaming Society has taken refuge in the White March to lay low before their next attack. Some say that they can be found around Longwatch Falls, east of Stalwart.
2
Return Ulmar's head to Tealdor.
10002
Ulmar has been slain. I can return his head to Tealdor for a reward.
End states
Quest complete.
30000
I claimed the bounty on Ulmar.
Quest Failed: Tealdor has died
30001