This article is about companions in
Pillars of Eternity II: Deadfire
. For companions in
Pillars of Eternity
and expansions, see
Companions
.
In Pillars of Eternity II: Deadfire, there are seven companions you can recruit for your party. Three of them return from the previous game - if they died during the events of the previous game, they won't be available for hire. Some companions can be romanced by Watchers (regardless of gender).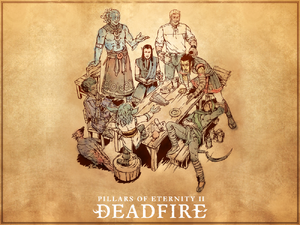 Companions are divided into two groups. One are full fledged companions with narrative, story interaction, romance and personal quests. The others are unique characters which may be acquired through quests that have their own voice actors, but will not offer any further interaction once hired. These companions are called sidekicks.
A maximum of four companions / sidekicks may be chosen to accompany the player on their adventure at any given time.
List
[
]
Companion relations
[
]
Each of the companions will establish relationships with you and other companions in the course of the game's events and conversations. What each companion likes and dislikes is determined by his character traits (helpfully displayed on the reputation pages) and eventually builds up to either like or dislike. Notably, friction between different companions can get to the point where they will issue an ultimatum and demand that you choose one of them and leave. This is particularly common with characters that have opposing traits:
Aloth dislikes the pride that both Serafen and Tekēhu demonstrate. Even Xoti can get on his nerves, though this is offset by her dutiful responses.
A way to minimize exposure is to ensure that you don't mix characters of opposing traits too much - and put those with common traits together.
Sidekicks
[
]
There are also six sidekicks that can join your party. Sidekicks are a new character type that sits somewhere between a companion and a hired-adventurer in terms of depth of detail. Sidekicks give you more options as to who can join your party - though they don't expand the current party cap of five. [3]
References
[
]