World of Warcraft: Dragonflight - The Loop
Play Sound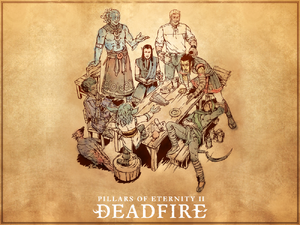 In Pillars of Eternity II: Deadfire, there are seven companions you can recruit for your party. Three of them return from the previous game - if they died during the events of the previous game, they won't be available for hire. Some companions can be romanced by the Watcher (regardless of gender).
Companions are divided into two groups. One are full fledged companions with narrative, story interaction, romance and personal quests. The others are sidekicks, unique characters which may be acquired through quests that have their own voice actors, but will not offer any further interaction once hired.
A maximum of four companions / sidekicks may be chosen to accompany the player on their adventure at any given time.
When a companion joins the party, you may choose up to three preset class options, typically two single classes and one multiclass combination of the two, or one single class and two multiclasses derived from it, giving players more freedoms as to what role they want their companion to play in the party.[1][2]
List of companions
[
]
Companions
[
]
| Portrait | Name | Class options | Race | Culture | Background | Found at | Romance |
| --- | --- | --- | --- | --- | --- | --- | --- |
| | Aloth | | Wood elf | Aedyre | Gentry | Recruited during Stranded, in Port Maje either at the Engwithan Digsite or in Port Maje Harbor, in front of Governor Clario's Estate | Yes |
| | Edér | | Meadow human | The Dyrwood | Farmer | Available from the beginning during the Prologue | No |
| | Maia Rua | | Island aumaua | Rauatai | Marksman | Kahanga Palace, Serpent's Crown, Neketaka: In the throne room | Yes |
| | Pallegina | | Avian godlike | The Vailian Republics | Soldier | Her location depends on the outcome of her quest in Pillars of Eternity (see here for more information). She either appears in the throne room of Kahanga Palace, Serpent's Crown, or in front of the docks in Queen's Berth. | No |
| | Serafen | | Wild orlan | Príncipi sen Patrena | Raider | Ship encounter shortly after fixing the Defiant and leaving Vilario's Rest | Yes (limited) |
| | Tekēhu | | Marine godlike | Deadfire Archipelago | Artist | Watershaper's Guild, Periki's Overlook, Neketaka | Yes |
| | Xoti | | Savannah + meadow human | Readceras | Farmer | Port Maje Harbor, Port Maje / Temple of Gaun, Neketaka (depending on your actions). If you have searched the Engwithan Digsite before coming to Port Maje, she will be at the Temple of Gaun in Neketaka. | Yes |
Sidekicks
[
]
There are also six sidekicks that can join your party. Sidekicks are a new character type that sits somewhere between a companion and a hired-adventurer in terms of depth of detail. Sidekicks give you more options as to who can join your party - though they don't expand the current party cap of five. [3]
Companion relations
[
]
Each of the companions will establish relationships with you and other companions in the course of the game's events and conversations. What each companion likes and dislikes is determined by his character traits (helpfully displayed on the reputation pages) and eventually builds up to either like or dislike. Notably, friction between different companions can get to the point where they will issue an ultimatum and demand that you choose one of them and leave. This is particularly common with characters that have opposing traits:
Aloth dislikes the pride that both Serafen and Tekēhu demonstrate. Even Xoti can get on his nerves, though this is offset by her dutiful responses.
A way to minimize exposure is to ensure that you don't mix characters of opposing traits too much - and put those with common traits together.
References