Fire Emblem Warriors: Three Hopes - The Loop
Play Sound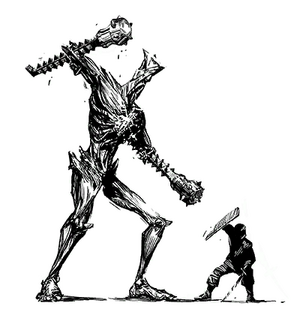 The Eyeless are ancient, mysterious maegfolc, more widely known in myth than fact. With their grotesque build and their crude yet functional limbs, they vaguely resemble constructs, though their origins and purpose are unknown. They know neither hunger nor fatigue, making them singularly relentless foes.
Background
[
]
Popularly, Eyeless are said to serve Ondra by seeing old or dangerous things forgotten. The peoples of the White March describe them as bogeymen that stalk old roads and secluded places. Parents warn their children not to forget their chores lest the Eyeless see them "forgotten," and people who lose something traditionally thank Ondra that the Eyeless did not come for them, too.
In reality, the Eyeless were the tools of Abydon, forged at the White Forge to become his assistants in his work on the surface of Eora. After the debacle with the moon and the death of Abydon's corporeal form, Ondra made the smithing god forget that he ever created them, so that there would be one less thing that could make him remember the manner of his death and turn him on the other gods. Ondra adopted the Eyeless as her own assistants afterwards, using their single-minded nature and terrifying power to erase what should be forgotten.
When not needed, the Eyeless would slumber beneath Cayron's Scar, their legions of thousands lined up beneath the ground, waiting for the command of their masters.
Variants
[
]
Image
Name
Level
End.
Acc.
Damage
Attributes
Defenses
DR
Abilities
Immunities
Loot
Eyeless Hammer
12
588
96
36-51
36-51 (LH)
Mig:
Con:
Dex:
Per:
Int:
Res:

25
25
10
13
10
16

94
59
113
65




18
14
999
999





Eyeless Ground Pound

Eyeless Kick

Eyeless Ray of Fire

Eyeless Scream

Eyeless Stonepiercer
12
588
96
46-70
Mig:
Con:
Dex:
Per:
Int:
Res:

25
25
10
13
10
16

94
59
113
65




18
14
999
999




References