Raise a Floppa - The Loop
Play Sound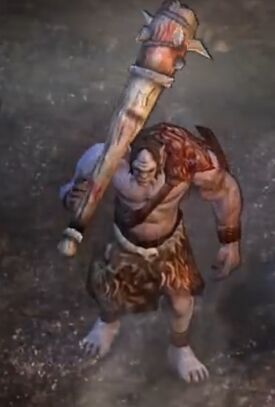 Ogres are a race of a creatures in Pillars of Eternity.[1]
Description
[
]
Ogres do a lot of damage based on their huge weapons, but also get a large bonus due to their high Intellect.[2]
Ogres stand between 10-12 feet tall. They are heavily muscled and typically attired in the furs, or skins, of their prey. They use crude weapons found, or created, in the wild. Clubs, axes and maces of bone or wood are the norm. Most have unkempt hair that ranges from black to rust. Ogres have thick skin which ranges from pale (in colder climates) to a dark bronze.
Ogres are as intelligent (often more so) than "civilized" races, but their overwhelming hostility toward everyone (including each other) keeps their numbers low. Ogres prefer to live alone, except during mating season, which does almost as much to reduce their numbers as it does to replenish them.
Despite their natural intelligence, their volatile temperaments have historically prevented them from concentrating long enough to create anything of significant cultural value. Most live semi-nomadic, secluded lives in the wilderness, where they are less likely to encounter others. Ogres with a more "peaceful" streak take particular pains to avoid contact.
On the rare occasions that ogres are found working together, they are almost always operating under the direction of an ogre matron. Ogre matrons are even larger than male ogres, but tend to be less aggressive. It's very rare that they form communities of any significant size. The most legendary force of ogres was the army that destroyed White March, though it disbanded shortly after. [3]
Notable Ogres
[
]
Korgrak – Ogre that lives in a cave near Dyrford Village.
Greya Hafstadt("White-iron Witch") – an Ogre Matron, that discovered the secrets of creating

Durgan Steel

. Many adventurers, Mercenary and Militia hunted her and her clan down to discover the secrets. But it's not known if she died or fled with her clan to a cave system, but the latter would explain why sometimes kith spot especially well armed ogres.[4]
Variants
[
]
Image
Name
Level
End.
Acc.
Damage
Attributes
Defenses
DR
Abilities
Immunities
Loot
Crag Ogre
4
244
71
33-47
Mig:
Con:
Dex:
Per:
Int:
Res:

21
19
12
10
11
13

32
33
69
37




5
3
3
10




Crag Ogre Cannoneer
5
274
67
35-50
Mig:
Con:
Dex:
Per:
Int:
Res:

18
18
16
15
11
11

43
54
64
36




5
3
3
10




Crag Ogre Chanter
6
314
80
32-44
Mig:
Con:
Dex:
Per:
Int:
Res:

19
18
11
13
13
14

49
43
69
49




5
3
3
10





Snowball

The Bite of Cold-the Cut of Wind

Ogre
6
325
77
40-60
Mig:
Con:
Dex:
Per:
Int:
Res:

21
19
12
10
11
13

48
39
75
43




10
5
20



Ogre Druid
8
392
86
38-57
Mig:
Con:
Dex:
Per:
Int:
Res:

19
18
11
13
13
14

55
49
75
55




10
5
20



Ogre Matron
9
493
89
37-56
Mig:
Con:
Dex:
Per:
Int:
Res:

18
22
14
13
15
14

58
58
84
62




10
5
20



Gallery
[
]
References