Line 1:
Line 1:
−

'''''Project Eternity''''' is an isometric, party-based RPG set in a new fantasy world developed by [[Obsidian Entertainment]]. The game is currently being funded on Kickstarter and achieved its funding goal within 24 hours of launch. While the Kickstarter campaign closes on October 14, 2012, the game is expected to launch April, 2014. You can help to fund the game further through [http://kickstarter.com/projects/obsidian/project-eternity its Kickstarter fundraiser]!

+

'''''Project Eternity''''' is an isometric, party-based RPG set in a new fantasy world developed by [[Obsidian Entertainment]]. The game is funded on Kickstarter and achieved its funding goal within 24 hours of launch. Kickstarter campaign closes on October , 2012, game is expected to launch April, 2014.

 
 
 

==Gameplay==

 

==Gameplay==

Line 52:
Line 52:
 

'''3.5 million, Big Big City 2!!''' – '''Achieved!'''<br />

 

'''3.5 million, Big Big City 2!!''' – '''Achieved!'''<br />

 

Baldur's Gate and Athkatla are big cities. Spanning multiple large maps with a ton of interiors, characters and quests, big cities are a lot of fun. Like strongholds, they also take a lot of work to do well. We're going to have one big city in Project Eternity. Would you like two? If you take us on an exciting adventure to $3.5 Million, we will take you on an exciting adventure to another big city.

 

Baldur's Gate and Athkatla are big cities. Spanning multiple large maps with a ton of interiors, characters and quests, big cities are a lot of fun. Like strongholds, they also take a lot of work to do well. We're going to have one big city in Project Eternity. Would you like two? If you take us on an exciting adventure to $3.5 Million, we will take you on an exciting adventure to another big city.

 
+
 
+

'''4.0 million, Enhance the Whole Game!!''' – '''Achieved!'''<br />

 
+

OK! After much team deliberation we have one final ultimate stretch goal. At $4.0m we will be enhancing the whole game. We will use live instrumentation for the soundtrack, add developer in-game commentary, and use every dollar between $3.5m and $4m to enhance the game. Also at $4.0m Chris Avellone will be forced to play Arcanum.

 
 
 

==See also==

 

==See also==
---
Revision as of 11:51, 17 October 2012
Project Eternity is an isometric, party-based RPG set in a new fantasy world developed by Obsidian Entertainment. The game is funded on Kickstarter and achieved its funding goal within 24 hours of launch. The Kickstarter campaign closes on October 16, 2012 after raising $3,986,929 in total. The game is expected to launch April, 2014.
Gameplay
Project Eternity will take the central hero, memorable companions and the epic exploration of Baldur's Gate, add in the fun, intense combat and dungeon diving of Icewind Dale, and tie it all together with the emotional writing and mature thematic exploration of Planescape: Torment.
Combat uses a tactical real-time with pause system - positioning your party and coordinating attacks and abilities is one of the keys to success. The world map is dotted with unique locations and wilderness ripe for exploration and questing. You'll create your own character and collect companions along the way – taking him or her not just through this story, but, with your continued support, through future adventures. You will engage in dialogues that are deep, and offer many choices to determine the fate of you and your party. And you'll experience a story that explores mature themes and presents you with complex, difficult choices to shape how your story plays out.
The World
Project Eternity takes place in a brand new world as-yet-unnamed world.
Kickstarter Stretch Goals
If certain funding goals are achieved, Obsidian has committed to incorporating the following features into the final product: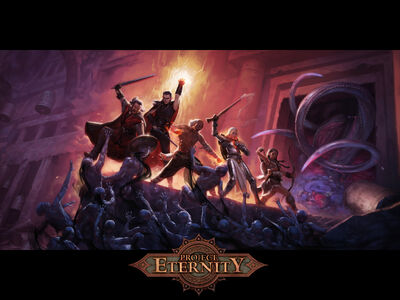 1.1 million, Base Goal – Achieved!
Base game includes three races, five classes, and five companions. We have ideas for these, but we want to hear your opinions on what you'd like to see. Stay tuned to Kickstarter, our website, and our forums to join in on the conversation.
1.4 million, New Playable Race, Class, and Companion! – Achieved!
Expands your options for character creation and adds a companion of the new class.
1.6 million, Mac & Linux Version of Project Eternity and The Story Grows! – Achieved!
We've listened and we'll make a Mac version of the game at this tier. We're also going to add a new major storyline along with new quests, locations, NPCs, and unique loot (special histories everyone?).
1.8 million, New Playable Race, Class, and Companion! – Achieved!
The options grow for your main character and the roster of your motley crew expands with the addition of a new companion from the selected class.
2.0 million, Player House! – Achieved!
Get your own house in the game that you can customize, store equipment in, and where your companions hang out, or, as the elves say, "chillax". Adds new NPCs, a store with unique new armor, clothing and weapons and.... more quests to adventure on.
2.2 million, a new Region, a new Faction and another new Companion plus French, German and Spanish translations! – Achieved!
Great news, everyone! The wishes of the Tarball Knights of Gzippia have been fulfilled, and Linux is a go. But what are we replacing it with at 2.2 million? French, German, and Spanish text translations, that's what!
That's along with what we were already adding at this stretch goal - a whole new faction and all the territory it holds. This adds new NPCs, quests, magic items, stores, adventure areas and hours of gameplay. And yes, you got it, another companion.
2.3 million, Expert, Trial of Iron, and Path of the Damned game modes plus the Godlike race! – Achieved!
Remember the Heart of Fury challenge mode from the Icewind Dale series? How about Ironman Mode from Temple of Elemental Evil? Hardcore mode from Fallout: New Vegas ring a bell? At $2.3M, we've got 'em all and they can all be turned on at the same time... Ouch! Also, Godlike races come at this level.
2.4 million, Crafting and Enchanting! – Achieved!
Crafting and enchanting at $2.4 million!
2.5 million, Barbarian and Cipher classes!! – Achieved!

2.6 million, Adventurer's Hall with full party creation! – Achieved!

2.7 million, Paladins and Chanters! – Achieved!

2.8 million, George Ziets! – Achieved!
It's our pleasure to introduce our next stretch goal of George Ziets at $2.8m – with your help, we'll be able to enlist the skills of George Ziets in shaping Project Eternity.
3.0 million, Stronghold!! – Achieved!
At $2.0 Million, your support funded a player house. Inspired by features like The Sink found in Fallout: New Vegas Old World Blues, the house is a convenient place to store gear, interact with companions, craft items (thanks to the $2.4 Million stretch goal), rest, and buy and sell from special merchants. Some of you wanted something that went beyond the standard player house, allowing you to take control of a full stronghold and its surrounding lands. Well-done strongholds provide players with the ability to make large scale changes, undertake special quests, customize the contents of the stronghold and the surrounding environment, and engage in light strategic gameplay between adventures. If we hit $3.0 Million, we will build a stronghold worthy of the title!
3.5 million, Big Big City 2!! – Achieved!
Baldur's Gate and Athkatla are big cities. Spanning multiple large maps with a ton of interiors, characters and quests, big cities are a lot of fun. Like strongholds, they also take a lot of work to do well. We're going to have one big city in Project Eternity. Would you like two? If you take us on an exciting adventure to $3.5 Million, we will take you on an exciting adventure to another big city.
4.0 million, Enhance the Whole Game!! – Achieved!
OK! After much team deliberation we have one final ultimate stretch goal. At $4.0m we will be enhancing the whole game. We will use live instrumentation for the soundtrack, add developer in-game commentary, and use every dollar between $3.5m and $4m to enhance the game. Also at $4.0m Chris Avellone will be forced to play Arcanum.
See also