Pillars of Eternity quests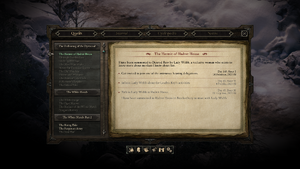 This page lists all quests in Pillars of Eternity and its expansions.
For a general discussion of experience earned, see Experience and Advancement.
The Hollowing of the Dyrwood
The White March
The Hollowing of the Dyrwood is the main quest line in the game, centering on Waidwen's Legacy, its impact on the people of the Free Palatinate of Dyrwood, and the protagonists' struggle to come to terms with their status as a Watcher.
The White March is an additional main quest line added by the expansion The White March - Part I and continued by the expansion The White March - Part II. It is integrated into the main campaign, so you don't have to start a separate game.

Act I

You need to solve Never Far from the Queen before the White March will start.

Act II

Part 1

Act III

Part 2

Act IV

As soon as you jump into the pit, you are unable to finish any previous quests.

End
These are miscellaneous quests which are not vital to the main storyline.
Knights of the Crucible questline
[
edit
|
edit source
]
Every scripted companion has a personal side-quest that you can complete together with them:
Tasks tend to be less complex and significant than full-fledged side quests.
Bounties are a type of task that require a target to be killed in exchange for a reward - the bounty - usually in the form of a pouchful of copper pands. They are typically given in batches.
The first expansion for Pillars of Eternity. The action takes place in an abandoned dwarven stronghold, Durgan, where, as rumor has it, one can find tons of incredibly valuable artifacts.
The second expansion for Pillars of Eternity. The DLC continues the story started in The White March - Part I, expanding the game world with new locations and quests.
Pillars of Eternity quests