The Changeling's Mantle
The Changeling's Mantle [SSS]
General

Equipment slot

Armor type

Category

Requirements

Recovery time

+20%

Soulbound

Unique

2,790

13,950

Armor Rating

Base

8

Burn

8

Crush

8

Corrode

6

Pierce

8

Freeze

8

Slash

6

Shock

8

Enchantments

Superb: +3 Armor Rating
Pelt of Many Kinds: At start of combat: Summon one of 4 non-combat beasts for 300.0 sec. Each beast has an aura, which applies a bonus to allies in a 10m radius.

Technical

Armor ID

LAX01_Hide_Armor_Soulbound_Changelings_Mantle

Guid

109b558f-c157-44e4-93eb-0b76a3b8cd2d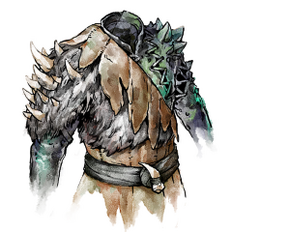 The Changeling's Mantle is a soulbound hide armor in Seeker, Slayer, Survivor. It can only be bound to a Barbarian, Cipher, or Druid.
Base
When not worn, this armor seems little more than a trapper's pile of discarded furs. It appears a patchwork - stelgaer hide draped over bearskin and wolf fur, all layered over a sheath of dark reptilian scale studded with the teeth of myriad predators.

Donning the apparel, however, the wearer notices an organic warmth within. It shifts of its own accord, fitting itself to the possessor's build, clinging tightly to flanks and under arms, yet allowing a freedom of movement rivaling fine dueling leathers.
Level 1
The mantle fits like a second skin... perhaps a first. It stretches easily with each movement and stiffens against strikes. It tightens along limbs like a set of external muscles to strengthen the wearer's blows.

The fur bristles slightly when emotions run hot, and a not-unpleasant musk clings to the rippling scales. The alien warmth has faded - instead the armor feels as comfortable as wearing nothing at all.
Level 2
| | |
| --- | --- |
| | It becomes easy to forget that one wears the armor. Easy, indeed, to forget many things. Memories, regrets, abstract philosophies, these things have little place in the great hunt, those infinitely interconnected trials that define every action in Eora. Life's focus tightens for those who allow it, to this challenge, to the next, to the struggle that gives each context. |
Level 3
Survival was never enough. Subsistence is survival. One can survive and never leave the den, provided food and water. So abides the pet. So abides livestock, raised for slaughter. Survival requires no hunt.

Do not merely survive, seeker. Challenge always. Overwhelm each moment, press it to the soil, and stake a claim from it. Drink of its hot blood. Eat of its flesh. Swallow its lessons.

You earn what you take.

Rise, gather the pack, go forth, hunt prey, spill blood, claim strength and wealth and wisdom. Drink, feast, fuck, and fall into slumber again.

Repeat.