World of Warcraft: Dragonflight - The Loop
Play Sound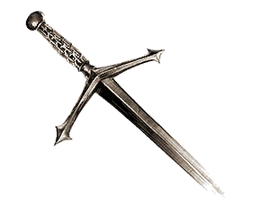 The Grey Sleeper is a soulbound estoc in Pillars of Eternity, added in The White March - Part I expansion.
Unlike the other soulbound weapons, it can be used by any class but the bond is permanent: once bound to a character, it cannot be severed. Upgrading is done by completing stages of the Grey Sleeper quest that starts once the weapon is obtained.
Description
[
]
As with other soulbound weapons, the in-game description of The Grey Sleeper is only gradually revealed. The description starts with two verses and a new one is added each time the weapon is upgraded.
Base
[
]
This estoc has a smooth, sturdy blade that tapers to a needle-sharp point. The groans of a dozen tortured souls ring from the metal, binding the weapon to the hand of its wielder for so long as the curse persists.

A few verses are etched along the blade:

"'Tis a traitor's fate to sleep and never rest
Whilst knowledge of his deed stays lodged within his breast.
But earnest penance heals the sorrowful man
And worthy actions stay the executioner's hand."
Level 1
[
]
A new verse appeared when the blade was drawn from its pedestal. It reads:

"Seek the whirling agent made of copper, adra, stone
Awaken first your essence so that you may atone."
Level 2
[
]
New verses blaze from the metal. They read:

"Find the sun-kissed hillocks where the dead folk sleep.
Rest beside their wasting flesh; inspect what dreams you reap."
Level 3
[
]
The final part of the poem shines along the blade:

"Fingers of the world, adra strong and whole
Kneel before the pillars, bring order to your soul."
Level 4
[
]
Two final lines appear along the blade of the estoc:

"A penance now complete, a burden now a gift;
Keep this weapon at your side to remind you of your shrift."
Acquisition
[
]
[WM1] Longwatch Falls: Pulled from a stone pedestal at the dwarven ruins.
Note that the character who pulls it from the stone is the only one who can ever use the weapon. They will not be able to unequip it until the curse, is lifted via the quest The Grey Sleeper.
Soulbound upgrades
[
]
| Level | Requirements | Classes | Value | Damage | Enchantments |
| --- | --- | --- | --- | --- | --- |
| 1 | Bind this item to unlock the next level. | | 2,210 | 16-23 | |
| 2 | Decipher the first verse of the poem to unlock the next level. | | 2,610 | 16-23 | |
| 3 | Decipher the second verse of the poem to unlock the next level. | | 3,210 | 16-23 | |
| 4 | Decipher the final verse of the poem to unlock the next level. | | 4,610 | 20-29 | |
Note: When upgraded to level 4, the Grey Sleeper's Cursed enchantment is removed, but the weapon cannot be bound to another character.