GTA: The Criminal Enterprises - The Loop
Play Sound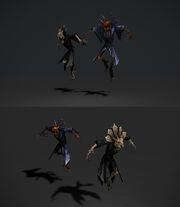 Vithrack are a race of creatures in Pillars of Eternity.
Description
[
]
They are a reclusive spider-like race, that has advanced intelligence, extraordinary capabilities and seem to possess the ability to connect to an individual's soul—albeit with horrifying consequences. Feared for their mental powers and extreme hostility, the vithrack were once eagerly pursued by animancers for research purposes. However, the dangerous nature and rarity of the vithrack combined with their inhuman physiology have still proven to be insurmountable obstacles in understanding how their powers work.[1]
Biology
[
]
Extremely rare, very dangerous creatures with natural cipher powers. They are mostly humanoid in shape, slightly taller and thinner than humans, but with horrific, fanged spider-like heads. Like spiders, they are capable of spinning silk, though they use it to make their own very intricate and fine robes. Males and females are indistinguishable from each other. They are primarily spellcasters and mental manipulators, like ciphers, though they will also attack with their fangs when forced into melee combat. Despite their extreme intelligence and power, vithrack are not a major force in the world due to their extremely low birth rates: A great city will typically contain only several hundred souls.[2]
Society
[
]
Given their arachnid appearance, it's no surprise that vithrack have traditionally used spiders as companions and minions. Though highly intelligent and socially organized, little is known about their culture as they are both hostile to outsiders and rare. Their psionic powers allow them to communicate mentally with one another. Like many social insectoids, their society includes a variety of specific roles, including scouts and defenders. While their low birth rates are likely responsible for their hostility toward other races, they have also made the vithrack highly altruistic when it comes to their own kind. They will defend their nests to the death.[3]
The only known Vithrack colony is Sstravek'narith.
Variants
[
]
Image
Name
Level
End.
Acc.
Damage
Attributes
Defenses
DR
Abilities
Immunities
Loot
Vithrack
8
126
62
8-14
Mig:
Con:
Dex:
Per:
Int:
Res:

9
11
12
14
20
17

53
53
41
75




0
Vithrack Exarch
11
172
72
8-14
Mig:
Con:
Dex:
Per:
Int:
Res:

11
12
13
15
25
18

63
66
56
96




8
4
12
12
4
12
12







Vithrack Brute
12
218
60
22-33
22-33 (LH)
Mig:
Con:
Dex:
Per:
Int:
Res:

22
16
10
12
9
22

70
57
89
75




8
4
12
12
4
12
12







Vithrack Luminary
12
193
79
32-40
Mig:
Con:
Dex:
Per:
Int:
Res:

15
13
12
19
24
20

68
75
69
101




8
4
12
12
4
12
12








Summon Illusionary Weapons
Gallery
[
]
References